Malagueña facil is a piece of music for classical guitar, composed by Francisco Tárrega. The composer, Tárrega, bearing the name of the small town in Cataluña, was a classical guitarist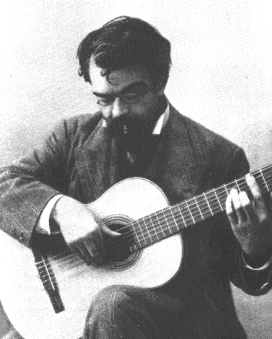 of the romantic period who laid the foundations of classical guitar, as we know it now. He was the teacher of Emilio Pujol and Miguel Llobet. The malagueñas is one of the traditional styles of flamenco music from Andaluzía. In composing it, Tárrega was probably inspired by the gypsies: as a teenager, he ran away from home to join the gypsies in Valencia.This particular piece was titled "malagueña facil", i.e. "easy malagueña", but it is nothing but (too) easy. Indeed, playing it in its proper tempo requires the kind of dexterity that a folk guitarist (a gypsy, say) has when playing flamenco. There are many poor performances (including mine) on the internet and elsewhere, but the following one I find superb:
The last 15 seconds of the piece (from 1:05 until the end in the video above) are the most challenging ones, most difficult to get right. (To wit, click on other performances on youtube.) This performer gets them just right. And these 15 seconds make all the difference in the world.